There's a good chance when you hear the words "hotel bar" you have visions of a business traveler in middle-America, drinking a Coors Light in a bar completely devoid of ambiance.
Let's be real: most hotel bars suck.
But, if you're willing to go out of your way to find them, there are a handful of hotel bars around the world that are worthy of not just visiting, but making a destination.
In fact, that's exactly what I've done.
In my quest to visit the Top 100 bars in the world, I've stayed at countless hotels, and occasionally, found a bar that manages to outshine anything else in their respective neighborhoods – if not their cities as a whole.
So rather than go on and on, here's the list of what I think are the 15 best hotel bars in the world.
Connaught Bar: The Fanciest Hotel Bar I've Ever Been To
Let's just get this one out of the way first. Not only is it arguably one of the best hotel bars I've ever been to, the Connaught is one of the best bars period.
There's a reason it was literally voted the best bar in the world last year.
Connaught Bar is unlike any place I've experienced. It's the fanciest place I've ever been.
Their Martini is second to none, and the level of service and attention to detail is unreal – as is the case with many similar bars in London.
This is the epitome of old school and formal.
This is the place you go dressed to the nines, and still knownng you're likely to be the worst dressed person there (I certainly was).
But should you find yourself in London? Go. Just….go.
What to drink? The Connaught Martini
NoMad Bar: Best Hotel Bar in New York City
Depending on when you asked, there's a good chance if you asked me what my favorite bar in the world is, I'd have answered "NoMad Bar" in New York City.
I've found it to be the perfect place to meet friends when I'm in the city. It's easy to get to in the Flatiron district, it's got plenty of space across two bars (NoMad Bar and Elephant Room) and the drinks are some of the best you'll have anywhere in the world.
The NoMad is one of the coolest boutique hotels in the city, and upon walking in and seeing the atrium-like restaurant, you know you're somewhere special.
But if you decide to forgo their world renowned chicken, you'll be treated to a large, unique cocktail menu that provides something for everyone.
Especially now that Aviary has closed, I think NoMad is one of the best hotel bars in the city – if not the very best.
What to drink? The Detox-Retox
Additional Reading: The NoMad Cocktail Book
The NoMad Cocktail Book
The NoMad Cocktail Book hits that perfect balance of wildly unique drinks, that are still accessible for home bartenders to make at home. There are some simple classics, and some that are more involved, and it's this balance that makes it one of my favorite cocktail books out there.
Buy Now
We earn a commission if you make a purchase, at no additional cost to you.
12/08/2023 01:54 pm GMT
Lobster Bar: A Hong Kong Institution
It's no secret that I have a lot of affection for Shangri-La hotels. Maybe it was our honeymoon, or maybe it was my first trip to London – but you always feel like you're staying someplace special when you visit a Shangri-La.
And as it turns out, some of them have pretty damn good bars as well.
The first on this list is at the Island Shangri-La in Hong Kong. It's a massive property connected to a series of cavernous malls. In both of my trips to Lobster Bar I've found myself getting lost for longer than I care to admit trying to find my way to the bar itself.
But once you're there, you're treated to one of the best hotel bars in Asia.
The service is second to none, and the only thing better than the drinks is their signature seafood platter – which is…impressive.
The Artesian: Another Classy London Hotel Bar
The Artesian has an interesting modern history. When I first started this quest, it was the very best bar in the world.
The next year? Completely off the list.
As most of us know, the success of a bar isn't about the physical space, it all comes down to the people behind it. So when all of your people leave? Well, this is what happens.
However over the last couple years a new bar team is in place that has returned the beautiful Artesian space in the Langham Hotel to it's former glory.
When we were there, they had a wildly inventive menu where each cocktail featured just two ingredients. You heard me correctly. Two.
One.
Two.
And what they were able to do with just two ingredients in those drinks is nothing short of remarkable.
If you're looking for London sophistication and delicious drinks, do yourself a favor and make a stop here.
The American Bar: One of the World's Most Famous Hotel Bars
The American Bar in the Savoy is consistently among the top bars in the world.
However, after two visits, I've found myself saying….huh?
I once asked a very well known bartender why they thought it was always ranked so high:
"It's the history and its spot in cocktail culture. The drinks these days? They're fine."
Don't get me wrong, you can feel the history among you when you're sitting in American Bar. And it really is a special experience.
But it may be the most expensive bar I've visited in the quest, and not all the drinks lived up to our expectations.
Beaufort Bar: The American Bar's More Impressive Sibling
The Beaufort Bar is the lesser-known bar in the Savoy.
But honestly? I found it to be more impressive! The menu was more inventive, the space was soaring and inviting.
And frankly, I found the drinks to just be more flat out more delicious and interesting.
American Bar gets all the attention, and you should go have a drink there. It truly is an experience.
But after you're done traipse across the lobby to Beaufort and prepare to be impressed.
Manhattan: One of Singapore's Best Bars
When you're talking Singapore Bars, it's the rooftop Ku-de-Ta at the Marina Sands that gets all of the attention.
Don't get me wrong, the view is spectacular. But if you don't want to fight the crowds over wildly expensive cocktails – you'll find a much better and more relaxed drink at Manhattan Bar inside the Regent hotel.
At one point Manhattan was the #3 bar in the world, and once you taste the drinks it's not hard to see why.
Lyaness: Just as good as the original
Lyaness is the current iteration of Ryan Chetiwardana's previous #1 bar Dandeylan.
The bar got a facelift in 2019, and the good news for you? It's just as good as the original.
The location of Lyaness is super convenient right along the Thames within walking distance to the Tate Modern, Borough Market, and the Shard.
But once you're inside you'll never want to leave.
On our most recent London trip we popped in thinking we'd just have one drink. Two hours, and three drinks later we were sold. The bartenders were super knowledgeable, friendly, and did a fantastic job explaining the stories and history behind the drinks.
New York Bar Tokyo: Worth it for the Views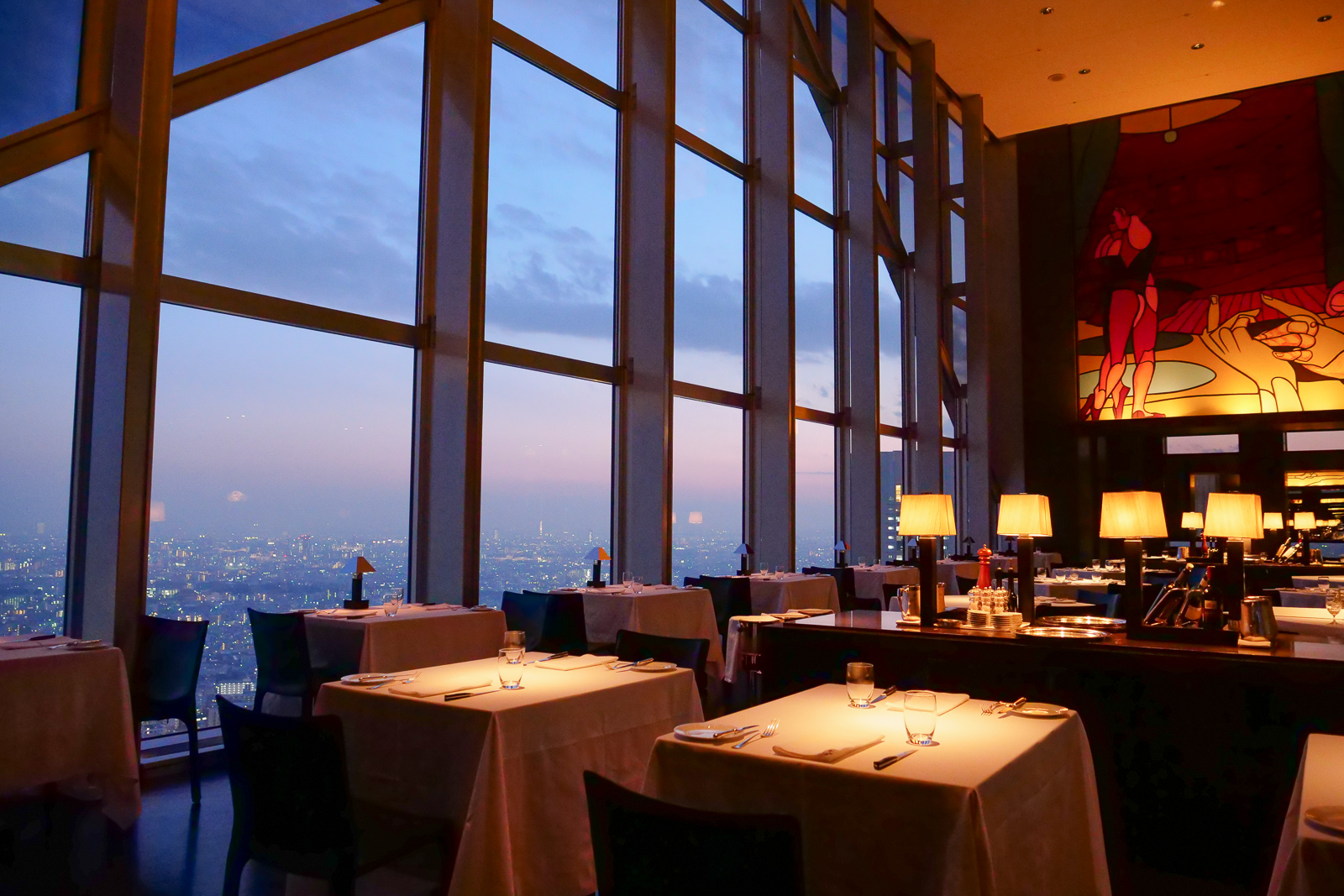 New York Bar is probably the most famous bar in Tokyo. Between the spectacular views, iconic Park Hyatt Tokyo, and the Lost in Translation fame – it's easy to see why.
While the cocktails may leave a little bit to be desired in comparison to many of the bars on this list, the atmosphere more than makes up for it.
Some of the best views in the city, combined with live jazz music makes for a pretty special experience.
Additional Reading: Park Hyatt Tokyo Review – World Class or Fading Star?
Bamboo Bar: A Bangkok Staple
Bamboo Bar holds a special place in my heart, because it's the first time I ever remember ordering a truly fancy cocktail.
It was a $10 Aviation that I nursed for about two hours.
Nestled inside arguably the most historic hotel in Bangkok, the Mandarin Oriental, just walking through the property is a memorable experience.
Once you make it to the bar where you can sip cocktails and listen to jazz in the same spot as countless notable people before you, you realize why it's such a special place.
Amidst the chaos of a city like Bangkok, Bamboo Bar is a welcome respite.
Additional Reading: Avitaion Cocktail Recipe
Origin Bar: Recounting Singapore's History through Cocktails
On our recent trip to visit all of the best bars in Singapore, Origin Bar wasn't on our list.
In fact, before the trip we'd never heard of this bar inside the Shangri-La Singapore.
But after countless bartenders told us we needed to check it out, we had no other choice but to visit. Especially since it was walking distance from the St. Regis where we were staying.
It focused on telling the story of the origins of Singapore through it's drinks. Both of the ones we had were very unique, and totally delicious. It's a place I'd absolutely visit again on my next trip to Singapore.
Additional Reading: The Best Cocktail Bars in Singapore.
Botanist: Vancouver's Best Cocktail Bar
Vancouver isn't necessarily a place known for world-renowned cocktail bars. We had a two-night trip planned for a concert recently, so naturally we did what we could to find the best drinks in town.
There was one bar that stands leaps and bounds over every other spot we visited – and it just so happens it was a hotel bar.
Botanist, located inside Fairmont's crown jewel Pacific Rim hotel, is truly something memorable.
The drinks are both unique and delicious.
The most memorable of which was a cocktail called Into the Æther. It won first place in the "Bols Around the World 2019" cocktail competition and features Bols Genever and ingredients sourced from nearby in the Pacific Northwest. It tastes great, but the presentation is even better.
Additional Reading: The New Experimental Cocktail
The Other Room: A Barrel-Aged Program Like None Other
The Other Room is hidden inside the Singapore Marriott Hotel, and is well worth the trip if you're in the area visiting Manhattan.
The Other Room is unique for their barrel-aged spirits program.
Many cocktail recipes you can simply recreate at home if you have the recipe and the right ingredients. However, this is a bit more difficult with drinks from The Other Room considering they cask age all of their own spirits.
300 of them to be exact.
So if you want to try the unique drinks they come up with using their unique booze? Might be time to hop on a plane, as this is one of the best hotel bars you'll find.
Rock Bar: One of the Most Dramatic Bars in the World
I visited Rock Bar one time waaaaay back in 2011, and it's still one of the coolest experiences ever.
You take an elevator down off a cliff to a bar, that is literally perched on a rock overhanging the ocean.
There are some spectacular places in Bali to enjoy a drink, but this might very well be the most dramatic.
Sky Bar Bangkok
There's a good chance you've seen Skybar, even if you don't realize. Ever seen the Hangover 2? That crazy open air restaurant? That's Skybar (or at least that was Sirocco, the restaurant component of the bar.
Skybar at the Lebua Hotel in Bangkok was at one point the highest open air bar in the world. It's been surpassed recently, but there's still something magical about the original.
The views are insane, the drinks are nuts, and if you stay at the Lebua you'll be treated to one of the best hotel brunches I've ever had.
This was the one place I always took friends when they came to visit during the time I lived in Thailand. And over a decade later? It's no less impressive.
What Did We Miss?
There you go, through over a decade of travel this is my list of the 15 best hotel bars I've ever been to.
But where did I miss? Where should we go see?
Drop a comment and let me know below.