This post was updated in November 2023 to add Italy Cocktails.
Amongst my friends, it's safe to say I've developed a bit of a reputation as the "cocktail guy."
What can I say, I appreciate a good drink!
But over the last few years, my cocktail tastes have evolved beyond the early 20s staples of the 7 and 7 or the affectionately named classics of "faderade" and "jungle juice".
No, these days just about any cocktail I drink uses high-quality ingredients and is much better than what you'll find at your typical dive bar or college party.
And despite all of my travels, a huge part of my cocktail knowledge comes from my newly acquired love of cocktail books.
I still remember my first literary cocktail adventure. We were on our first trip to London in 2017 (where we splurged and stayed at this ridiculous hotel.) We stopped by the late White Lyan (may it RIP) – one of the first bars by world-renowned bartender Ryan Chetiyawardana aka, Mr. Lyan.
It was our last stop after a long day of bar hopping, and we loved the vibe of the bar. Unpretentious and casual, but with fantastic drinks.
Unsurprisingly, they had a book called "Good Things to Drink".
On a drunken whim we bought it, and on the trip back home I found myself getting lost in the pages learning about batch cocktails, punches, hot drinks, and many more.
It was the first realization that so many of the bars we'd been traveling around the world to visit actually have books where they not only share the methods to their madness, but give the real drink recipes for some of the best drinks in the world.
Reading from the world's best cocktail books was like opening up a whole new world of home bartending that has not only made hosting guests more fun, but it's taken a hobby and allowed me to move beyond that to truly honing the craft.
By studying the world's best cocktails, you find you get more creative with your own ideas as you understand what works and what doesn't.
So in this post, you're going to find the best cocktail books in the world broken down into categories. So whether you're looking for the best tiki cocktail book (Smugglers Cove) or the book with the most beautiful photos (Aviary), you'll hopefully find something that will help educate you, as well as treat yourself to some delicious drinks in the process.
Best Cocktail Books: How to Choose the Best Book for You
As my collection of cocktail books grows, I've learned that there really isn't a one size fits all book.
We all have different needs, interests, and levels of our interest in the hobby.
For instance, you wouldn't buy a book on pre-prohibition era cocktails if you're looking for the best tiki recipes.
You also wouldn't buy a book with nothing but complex and obscure recipes if you just want to know how to make a decent Aperol Spritz for your friends.
So the first thing you need to ask yourself when deciding what cocktail book to buy, is what do you need?
Some questions to ask:
Do you just want an easy reference for the classics?
Are you trying to learn about one specific style of cocktail?
Do you want to understand more about technique as opposed to the recipes themselves?
How much do you want to push yourself and really learn how to make more complex drinks?
Regardless of what you're looking for, there's a book out there for you, and this post will help you find exactly what you're looking for.
Best Overall Cocktail Book: Cocktail Codex
This should be a very difficult question to answer, but when people say "I'm going to buy one cocktail book, what's the best one?"
My answer is actually really simple: Get Cocktail Codex by the Death and Co team.
Now depending on what you're looking for, or your knowledge level, this may or may not be exactly what you're looking for.
But for the typical person, this is the absolute best, most well-rounded book I've come across.
First off, the recipes in the book are spot-on and very good.
Other recommendations I used to make for cocktails like the PDT or Canon books have let me down a bit with some of their recipes for the classics.
But everything I've made from Cocktail Codex? Awesome.
Just try the Smokescreen cocktail, as it's one of my favorites in the book.
But that isn't the real reason why the book is so great.
Its secret lies in how it educates you on the fundamental construction of the 7 most common styles of cocktail: old fashioned, daiquiri, martini, sidecar, whiskey highball, and flip.
It teaches you why those styles of drinks work by giving you the concepts of the "core," "balance," and seasoning – and how to use each to create a cocktail.
And once you know the formula for say a standard daiquiri, you're then able to take that knowledge and create any number of variations of your own.
And if you'd rather follow a recipe? Then there are dozens of variations of each of these drink styles to choose from.
When you combine the most useful and relatable educational cocktail book, with some of the best recipes from any book I've seen?
It's not difficult to choose Cocktail Codex as my favorite overall book.
Best Overall Cocktail Book
Best Cocktail Book for Most People: Regarding Cocktails
Assuming you already have Cocktail Codex, this is my next recommendation.
Attaboy in New York City is widely regarded the best cocktail bar in the United States.
It began its life as the game-changing Milk and Honey, a bar that can almost single-handedly take credit for the resurgence of the cocktail in the early 2000s.
Well, this book was written by the late Sascha Petrasky – the genius behind these bars.
What I love about it is that there are unique and complex drinks in the book, but nearly all of them are very simple to make.
There's the occasional syrup or ingredient you might have to make yourself, but if you have a fairly well-stocked bar and some citrus options – you'll be able to create most of the drinks in this book.
This means that unlike a NoMad or Dead Rabbit book, which will undoubtedly ask you to go to the liquor store before you make anything, you'll be able to open it up on a random Friday night and find plenty of drinks to make with ingredients you already have.
This makes it one of the most accessible books on the list. It also will give you a great appreciation for how small changes can have a big impact on a drink.
See our full review of Regarding Cocktails.
Regarding Cocktails
The only cocktail book from the late Sasha Petraske, founder of Milk & Honey and Attaboy. Well worth adding to your collection.
Buy on Amazon Now
We earn a commission if you make a purchase, at no additional cost to you.
12/08/2023 06:54 pm GMT
Best Tiki Cocktail Book: Smugglers Cove
Personally, I'm a huge fan of tiki cocktails.
You could certainly make the argument that many of them taste very similar with that combination of citrus, rum, and spicy falernum being common amongst many.
But whatever, sometimes we all need a little escapism in our lives, and a nice umbrella drink can be the perfect way to do it.
While the bar Smugglers Cove isn't my personal favorite tiki bar in the world (that distinction goes to Hale Pele in Portland), there's no denying that it is fantastic.
And their book? It's the only book on tiki cocktails you'll ever need.
Not only does it go deep into the history of the the tiki drink, but it has some of the best variations of the classics you'll find anywhere – along with some wonderful original creations.
Their Hotel Nacional for instance is always a crowd-pleaser at our house.
Smuggler's Cove: Exotic Cocktails, Rum, and the Cult of Tiki
If you love tiki cocktails, look no further than this book. This book covers fantastic versions of all the best tiki cocktails, and gives a wonderful background on the history and culture of tiki drinks,
Buy Now
We earn a commission if you make a purchase, at no additional cost to you.
12/08/2023 01:34 pm GMT
Best Italian Cocktails: Italy Cocktails – An Elegant Collection of 100+ Recipes
Let's face it, we're not all fortunate enough to head to Italy, or even an Italian cafe like Dante on a regular basis.
The next best thing?
Learning how to make spectacular Italian cocktails at home.
I've been very impressed by what Paul put together here. As someone who travels for cocktails a lot, I love that he incorporated drinks and stories from numerous bars and cities around Italy. The book has plenty of easy-to-make (yet, delicious) drinks, but also recipes for the more adventurous home bartender. If you've ever had love affair with Italy, or simply enjoy a good Aperol Spritz or Negroni – you'll love this book.
Note: I received an advance copy of this book and it will be released on December 12, 2023.
Best Italian Cocktails
A Cocktail Book with Great Variety: Steve the Bartender's Cocktail Guide
Just because someone is YouTube famous does not mean their cocktail book is actually going to be any good.
Fortunately, for Steve, his Cocktail Guide hits all the right notes to backup his popular cocktail YouTube channel.
What I love about this book is that there's a little bit of everything, but it's all generally very accessible.
Most of the cocktails don't involve some crazy ingredients or require to slave away on your own infusions and syrups for hours on end.
It's a great collection of classics, riffs on classics, and a pretty beefy collection of tiki drinks, which I always love to see.
He finds the right balance of sharing the history of each drink without going overboard.
But what I like most about this book is that on a random weeknight I can open it up, and find plenty of unique or new-to-me cocktails that I'll likely have nearly all the ingredients for.
Whether it's the Nuclear Daiquiri or the Milk & Honey concoction, the Cosmonaut, each drink I've made from the book has been very good. While I might disagree with a few ratios on a few of the classics, overall this is a wonderful, beginner-friendly book to have behind your home bar.
Steve the Bartender's Cocktail Guide
A great beginner friendly cocktail book, with both classic and modern recipes.
Buy Now
We earn a commission if you make a purchase, at no additional cost to you.
12/09/2023 09:10 am GMT
My Favorite Cocktail Book Right Now: The NoMad Cocktail Book
Whenever I've visited NYC there historically was always one bar I couldn't miss: The NoMad Bar.
Unfortunately, the NoMad Hotel NYC closed recently, and took one of my favorite bars along with it.
Fortunately, they have a couple other outposts in Vegas and LA you can still visit.
At the NoMad you never got the crazy speakeasy vibe like you do at PDT.
Or the over the top molecular drinks from Aviary.
Or the incredibly bespoke, intimate experience from Attaboy.
But you did get some of the best cocktails I've ever had at a bar. Period.
So when I discovered that Leo Robitschek finally came out with a cocktail book?
I knew I had to have it.
Some cocktail books feature recipes that stick to the basics and are a little too common for my taste.
Some are so elaborate that you know you'll rarely, if ever, actually make any at home.
And then every once in a while you find the rare book that hits the sweet spot. It has some drinks with ingredients you probably have, and are easy to make, but also features some more elaborate drinks that will be an adventure to create.
The NoMad book strikes this balance perfectly. There are no gorgeous photos, or ins and out of the history of the cocktail.
Rather what you'll find is a wonderful book of a few hundred interesting, unique, and delicious drinks.
This isn't the book I'd recommend to a total newbie, but if there's someone in your life who is ready to up their drink game a bit? This is a wonderful addition to the library.
Check out my full NoMad Cocktail Book Review.
The NoMad Cocktail Book
The NoMad Cocktail Book hits that perfect balance of wildly unique drinks, that are still accessible for home bartenders to make at home. There are some simple classics, and some that are more involved, and it's this balance that makes it one of my favorite cocktail books out there.
Buy Now
We earn a commission if you make a purchase, at no additional cost to you.
12/08/2023 01:54 pm GMT
Good All-Around Cocktail Book: Death and Co: Modern Classic Cocktails
I actually picked up Cocktail Codex mentioned above before I got the original Death and Co book. But after procuring a copy recently, I'm just as impressed with it as I am it's newer sibling.
There are some fantastic recipes, but it does a good job of also educating in it as well.
It takes a slightly different approach and it less education focused than Cocktail Codex, but I found some of it's "formulas" for creating great cocktails to be incredibly useful – and produce great original cocktails!
I also liked the content around the matrix of how they helped patrons find the perfect drink, even without a menu.
I truly believe this is one book that should be in every home bartender's collection, as it has a great mix of recipes that are easier to make, as well as some that will take more preparation and experience.
Death & Co: Modern Classic Cocktails
One of the best cocktail books out there. Fantastic for both veteran bartenders as well as those just getting started with the hobby. A must-own for all cocktail aficionados.
Buy Now
We earn a commission if you make a purchase, at no additional cost to you.
12/08/2023 05:14 pm GMT
Most Unique Cocktail Book: Dead Rabbit Mixology and Mayhem
The Dead Rabbit in NYC was the very first top 100 bar I visited, and even if I felt like they were slipping a bit after my last trip there, it still remains one of the very best bars in the world.
And something that sets them apart are their menus.
They're on their 6th or 7th iteration of their elaborate graphic novel menus, which you could literally spend an hour or two reading, soaking in, and contemplating which drink to get.
They're always unbelievably well done, and I can't help but buy one every time there is a new one out.
But their latest book The Dead Rabbit Mixology & Mayhem, takes this to a whole new level.
It's a graphic novel of their last 6 menus. And to make things even cooler many of the characters are based off of real world bartenders from some of the best bars around the world.
I actually first heard about the book from Shingo Gokan, who is in it, while we were sitting in his bar the SG Club in Tokyo.
So if you're looking for a book that actually has a fun story to follow along with, and some world class drinks? The Dead Rabbit is what you want.
Best Book on the Science of Cocktails: Liquid Intelligence
This should be required reading for anyone who wants to start taking cocktails seriously.
Have you ever wondered why you stir a Manhattan and shake a daiquiri? Or how long you need to shake a drink for perfect dilution? Or how to make clear ice and why many people consider it superior?
Then Liquid Intelligence is the book for you. It's essentially the science behind the drinks, and it teaches you the techniques you need to know and understand to make your cocktails well from a technical perspective.
Best Book About Setting Up a Home Bar: The Ultimate Guide to Starting a Home Bar
If you're reading this post, then you clearly have a vested interest in making cocktails at home! But how do you go about it? What tools do you need, what are the best spirits to start out with? How much do you need to spend to be properly set up?
These are all questions you might run into as you go deeper down the cocktail rabbit hole.
This book is different than the rest for two reasons:
It's a digital book, rather than a physical one
It's free!
I created this book to give you all the tools and insights I wish I had when I started getting more into cocktails.
You literally just have to drop your email below and I'll send it to you immediately. And don't worry, I rarely send emails and never spam. I promise.
Best Book About Visiting Bars: Drinking Distilled: A User's Manual
It's almost like a rite of passage when you first get really into cocktails to make a huge drink or bar faux pas.
One of the most common? Trying to educate the bartender.
"Hey man, this old-fashioned wasn't prepared the right way. I need Demerara syrup, not a sugar cube. A big cube not bar ice, and for the love of God, why is there a muddled maraschino cherry in my drink?"
Ugh, be honest, you've been that person at least once in your life.
Well, Jeffrey Morgenthaler wrote the definitive guide on drinking etiquette in Drinking Distilled. Don't want to sound like a douchebag and make your bartender hate you? Read this book.
I remember the first time I came into Jeff's bar Pepe Le Moko and I said "have any drinks you're really excited about right now?"
His response: "Well I made all the ones on that menu right there, so I'm pretty excited about each of those."
Love that guy.
He also has one of the best cocktail and bar culture blogs on the internet. Check it out here.
Drinking Distilled: A User's Manual
Jeffrey Morgenthaler is a legend in the bartending community, and once you read this book, it's easy to see why. I love the refreshing look it takes to the etiquette of drinking in a bar, not just making the drinks.
Buy on Amazon Now
We earn a commission if you make a purchase, at no additional cost to you.
12/08/2023 07:28 pm GMT
Most Beautiful Cocktail Book: The Aviary Cocktail Book
If you've followed any drink accounts on Instagram over the last year and a half, there's a good chance at some point you've been served an ad for the Aviary Book.
The original Aviary in Chicago is the bar portion of 3 Michelin-star restaurant, Alinea, which is known for its molecular gastronomy techniques, and total over-the-top presentation.
Aviary does that in bar form. Take this drink from the now defunct Aviary NYC called "Boom Goes the Dynamite" for example:
Well, the Aviary book is just as impressive as the bar and the drinks themselves – it's also just as expensive.
The Aviary cocktail book is one of the most expensive cocktail books out there, but for good reason.
The presentation is phenomenal, and the more expensive version that comes in a presentation box is stunning.
The photos inside are just as beautiful, and it will have you repeatedly saying: "I want one of those."
The only downside? This book also wins the award for "the book you're most likely to make zero recipes from."
Most are very elaborate and require tools like a water circulator, vacuum sealer, immersion blender or even more obscure tools to be able to make the drinks.
Most of them will take quite a bit of time, patience, and skill to create – but if you do?
You'll be greatly rewarded.
One day I'd love to start a series on this site where I attempt to make every drink in the book.
Alas, that day is not today.
The Aviary Cocktail Book
The bougiest (and most beautiful) cocktail book there is. If you want the ultimate challenge in cocktail creation, this is the book for you. It ain't cheap, but it's one of the definitive books any true cocktail connoisseur should have in their collection (even if you never make a single drink from it).
Buy Now
We earn a commission if you make a purchase, at no additional cost to you.
12/08/2023 05:40 pm GMT
Holy Grail Cocktail Book: The Jerry Thomas Bar Book
It seems like every niche or industry has a handful of "holy grail" books out there.
In golf it's a copy of the original Confidential Guide to Golf Courses by Tom Doak – which you'll regularly see going for over a $1,000.
In cocktails, there are also a few. A first printing of the Trader Vics Bartenders Guide I've seen for around $500.
But the absolute holy grail is no doubt an early copy of the The Bartenders Guide by Jerry Thomas.
Jerry Thomas was arguably the first truly celebrity bartender and is credited with creating classics like the Flip, Sour, and Tom Collins.
Quick Reference for Classic Cocktails: PDT Bar Book
For a long time, this was my go to recommendation for people who wanted to jump into the world of at home cocktails.
It's easy to read, has a nice presentation, and is written by one of the most well known people in the cocktail industry.
You'll find a ton of recipes on here for your basic classic cocktails, and then you'll find some stuff that might push you a little bit farther as well.
I usually still recommend the Cocktail Codex book over this now, as I've found I like some of their versions of the same drinks better and it has that educational component that is done so well.
But if you're just looking for a book filled to the brim with solid recipes, the PDT book is one you'll find in nearly every cocktail geeks collection.
Best Punch Recipes: The Dead Rabbit Drinks Manual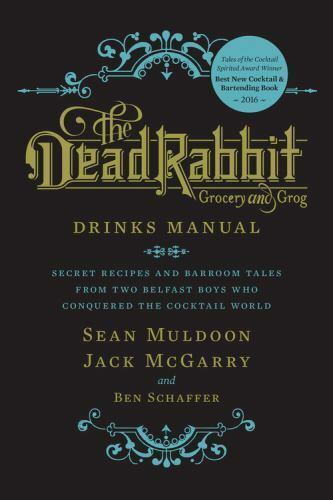 While the newer Dead Rabbit book I mentioned above is probably a better fit for most home bartenders (there are more recipes, and many of them are a bit easier to make), I'd be remiss if I left out their original book: The Dead Rabbit Drinks Menu.
I say this mostly because of two drinks: the Bankers Punch and the Philadelphia Fish House Punch
Of all the books I've got, and all of the drinks I've made, these two still rank up among my favorites.
Which isn't surprising as there are definitely similarities in taste.
Namely their use of a Dead Rabbit rum blend that is attempting to recreate a lost style of rum called "London Dockside Rum."
To recreate it, you combine equal parts of Smith and Cross, Cruzan Blackstrap, and Banks 7.
You're left with a funky, delicious rum, that is the star in each of these two drinks.
Neither of these drinks are easy or inexpensive to make, and both require preparing some home made syrups.
But it's worth it.
And if these two cocktails are to be any indication, the other elaborate drinks in this book definitely going to impress as well. You know, for those of you brave (and rich) enough to make them.
Best Cocktail History Book: Imbibe
Finally, no list of best cocktail books would be complete without mentioning David Wondrich's phenomenal Imbibe.
One part cocktail book, one part memoir – it delves into the history of the original celebrity bartender, Jerry Thomas.
If you've ever wondered about the lineage of some of your favorite drinks, and wondering where the craft cocktail effectively came from?
You'll love this book.
What Cocktail Books Am I Missing?
So there you go, a collection of what I believe to be the best cocktail books currently on the market.
Do you have any books in your cocktail library that you love that weren't mentioned here? Drop a note in the comments, I'd love to hear about them!
This page contains affiliate links. This means that if you click a link and buy one of the products on this page, I may receive a commission (at no extra cost to you!) This doesn't effect our opinions or our reviews. Everything we do is to benefit you as the reader, so all of our reviews are as honest and unbiased as possible.
What to Read Next
Trying to figure out what to read next?
This page contains affiliate links. This means that if you click a link and buy one of the products on this page, I may receive a commission (at no extra cost to you!) This doesn't affect our opinions or our reviews. Everything we do is to benefit you as the reader, so all of our reviews are as honest and unbiased as possible.