Now, I've never been to Moscow.
Aaaaaand I've never ridden a mule.
Hell, I don't know that I've ever even been around a mule.
But I do know a thing or two about Moscow Mules.
Wonderful cocktail, weird name.
Why do I love this drink so much?
Because this is the perfect "in between drink."
It's a step up from regular highballs like a gin and tonic or a rum and coke – which admittedly usually don't have much fanfare around them. You throw them together quickly, you drink them at dive bars, they don't feel like elevated cocktails.
Interestingly, in the early days of the Moscow Mule, it was more of a highball rather than a sour style drink. It basically was vodka and ginger beer with just a squeeze of lime over the top.
A Moscow Mule also isn't an elaborate drink. It doesn't require super fancy ingredients, equipment, or take a long time to make like say an Avocado Margarita or a Fish House Punch.
It's in between. You can make one in seconds, it feels fancy and like a "craft cocktail", and it's a drink that nearly everyone likes.
But there are still some things you need to know if you want to do it right and make a delicious Moscow Mule.
Ingredients in a Moscow Mule
One of the best parts of this cocktail is the fact that it's simple to prepare – there are only three ingredients:
Vodka – Any mid range and better vodka will work. See below for my favorites
Ginger Beer – Don't go cheap here.
Lime Juice – Fresh squeezed ALWAYS.
That's it. There are different schools of thought on ratios, but fortunately, even if your ratios are a little off, you'll still have a tasty drink.
It's always nice to have a forgiving cocktail like this in your back pocket that you also know your guests are likely to love.
Why Do You Serve Moscow Mules in a Copper Mug?
In my recent Mint Julep recipe I talked about how I'm a sucker for any cocktail that has it's own signature glass – and the Moscow Mule is one of the most well known cocktails to do this.
But why is it served in a copper cup? It's probably not for the reason you think.
A vodka baron, a bartender, and a copper manufacturer's daughter walk into a bar…
No, really.
John Martin bought Smirnoff in the 30's, but was learning the hard way that American's weren't really into vodka at the time.
Jack Morgan owned the Cock 'n' Bull bar in L.A. and had recently launched his own ginger beer brand. It also was not going very well.
And finally the daughter of a copper manufacturer in Russia had imported a bunch of copper mugs that nobody wanted.
This unlikely trio met up, and a new classic was born: the Moscow Mule.
Although, despite the name, it was a decidedly American creation.
How to Make a Moscow Mule
Like I said, the Moscow Mule is easy to make.
Part of this drink's appeal is the fact you don't need to shake it or build it in a cocktail glass.
To make a Moscow Mule you:
Get a copper mug
Add 2oz of vodka
1/2 oz of fresh lime juice
Fill the glass with ice
Add 4oz ginger beer
Stir for 5 seconds
That's it! The only thing that makes this drink even the slightest bit difficult, is that to do it properly you want to have a copper mug. You can buy some cheap ones on Amazon here:
Best for Moscow Mules!
Moscow Mule Copper Mugs - Set of 4
Not only are Moscow Mules easy to make, but nearly everyone likes them! But if you're going to make it, you better do it in a copper mug. This is a fantastic, and affordable set.
Buy Now on Amazon
We earn a commission if you make a purchase, at no additional cost to you.
06/10/2023 08:16 am GMT
Honestly, it sounds weird, but it really does make a huge difference when it's a hot summer day and your drinking mules. The copper conducts heat well, and do it helps keep the drink icy cold longer than a regular glass does.
Here our some of our favorite summer cocktails.
Best Type of Ginger Beer for a Moscow Mule
In my opinion the ginger beer you use is the most important part of a Moscow Mule (or any mule variation).
The ginger beer has a strong flavor, so it will do a good job masking any intricacies of your particular spirit. Because it's so strong, if you choose a low quality brand, your drink simply won't taste as good.
For years I've pondered the question "what is the best ginger beer for a Moscow Mule?"
This question bugged me so much, we actually did our own blind taste test of 7 of the most popular varieties.
The winner? Q Ginger Beer.
I've tested a lot of different ginger beers, and I always thought my favorite was Fever Tree (which is still great).
But the blind test didn't lie! Q was one and Fever Tree was 2. There were a handful of surprises in there, so check out our best ginger beer post for more insight into what our tasting group liked the best.
Brands like Q or Fever Tree are probably a few bucks more than some brands on the store shelf, but once you take your first sip of that delicious vodka concoction, you'll be glad you spent the extra money.
You can usually buy it in 17oz bottles or in 4 packs of 7oz bottles.
The former is the better deal, and if you know you'll be making a handful of them over the course of 24 hours, I'd pick up bottles of that. However, if you're just looking to make one or two at a time, go for the smaller bottles, as they won't go flat.
Best for Moscow Mules
Q Ginger Beer - 7.5 Fl oz, 24 Cans
In our blind ginger beer taste test, Q was the winner! We think this is the best ginger beer for Moscow Mules and many other cocktails.
Buy Now
We earn a commission if you make a purchase, at no additional cost to you.
06/10/2023 06:47 am GMT
And there's no faster way to ruin a Moscow Mule than to serve it with flat ginger beer.
Best Vodka for a Moscow Mule
The best vodkas for a Moscow Mule are:
Titos
Stoli
Absolut
Reyka
Kettle One
Grey Goose (if you want to go really fancy)
Any of those will work great.
Here's the thing about the Moscow Mule, you're not really going to be able to taste the vodka.
Sure there's a bit of a kick (get it, mule? Kick? I'll see myself out), but generally the ginger will overpower the vodka, which isn't exactly flavorful in it's own right.
So it's not like you need to bust out your finest grey goose for a Moscow Mule.
I mean sure, you could, and your guests might be impressed. But frankly for half the price you can use Stoli, Svedka, Absolut, or any of those $10-15 bottles and it will taste great.
Personally right now I'm using Reyka vodka for my mules.
Moscow Mule Variations
One of the great things about the Moscow Mule, is once you know how to make it, you can very quickly and easily make variations on it based on your guests personal preferences.
In fact, there's pretty much a different type of mule for every base spirit.
Kentucky Mule – Use bourbon instead of vodka
Mexican Mule – Use Tequila instead of vodka
Gin Mule – Use gin instead of vodka
Dark and Stormy – Use dark rum instead of vodka
Oaxacan Mule – Use mezcal instead of vodka
Literally follow the exact same recipe as a regular Moscow mule and just switch out the spirit
You can no doubt go find any number of food blogs that have all sorts of tricked up variations of their own, but the ones above are standard issue, and are delicious cocktails in their own right.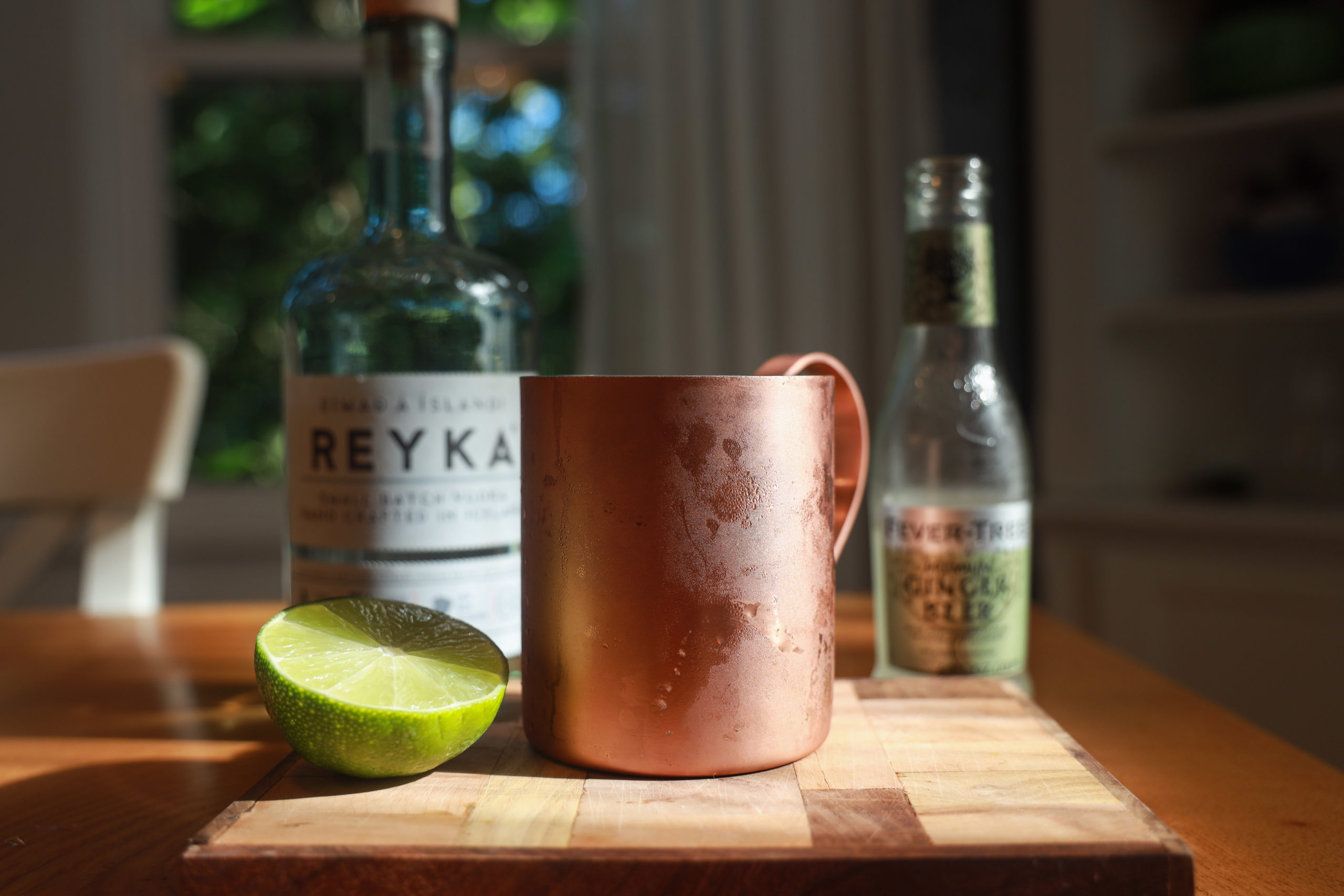 Moscow Mule (A Fan Favorite)
There may not be a more enjoyable summer cocktail than a Moscow Mule in a copper mug.
Print Recipe
Ingredients
2

oz

Vodka

.5

oz

Fresh Lime Juice

4

oz

Ginger Beer

We prefer Fever Tree
Instructions
Combine lime juice and vodka in copper mug

Pour ginger beer over ice
Nutrition
Looking for More Cocktails to Make
If you enjoy the Moscow Mule and want another refreshing cocktail that is easy to serve for guests, here are a few I'd try.